Wanderer Festival Drops Stellar Final Lineup For 2023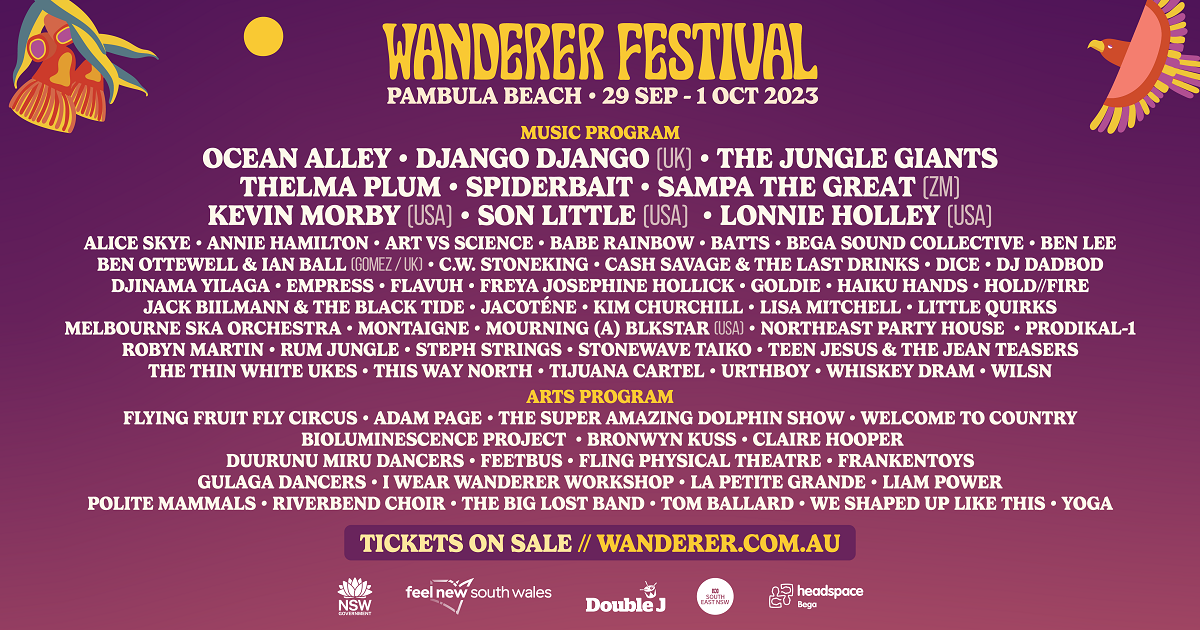 Wanderer Festival has released its final program announcement, cementing a world-class program of music, art, comedy, theatre, circus and artisan workshops over three unforgettable days and nights.
Adding to the already stellar lineup, please welcome to the stage phenomenal Zambian artist, Sampa The Great (ZM), internationally renowned visual artist and musician Lonnie Holley (USA), prolific and unpredictable Australian pop icon Ben Lee, ultimate party band Northeast Party House, alongside Teen Jesus & The Jean Teasers, Tijuana Cartel and so many more.
Delivering the laughs this year is award-winning Tom Ballard, one of Australia's hottest comic talents having performed and won acclaim all around the world. Also joining the lineup is born storyteller and sharp witted Claire Hooper, a highly sought after guest and co-host appearing on iconic comedy shows and festival favourite for her captivating and brilliant shows.
The festival's latest program announcement has quality and quantity in spades with 24 artists just announced, joining previously announced headliners Ocean Alley with their infectious blend of psychedelic-surf-rock, UK garage rock and electronica act Django Django (UK), storyteller and creator, Gamilaraay woman Thelma Plum, The Jungle Giants, Spiderbait and Kevin Morby (USA).
But that's not all! Wanderer has also just launched the Ultimate Festival Experience competition with ticket holders in the running to win an epic festival upgrade with all the bells and whistles of VIP passes, backstage access and absolutely one-of-a-kind accommodation. The prize also includes a whale watching cruise with Sapphire Coast Adventures and lunch at Merimbula's hatted restaurant, Valentina.
The competition ends at midnight AEST on Monday 21 August 2023. Full details and T&Cs can be found HERE.
Tickets to Wanderer Festival 2023 are on sale now! Check out the details and score your tickets below.
Wanderer Festival 2023
Fri 29 Sep - Sun 1 Oct 2023
Pambula Beach, NSW
MUSIC
OCEAN ALLEY * DJANGO DJANGO (UK) * THE JUNGLE GIANTS * THELMA PLUM
SPIDERBAIT * SAMPA THE GREAT (ZM) * KEVIN MORBY (USA)
SON LITTLE (USA) * LONNIE HOLLEY (USA)
ALICE SKYE * ANNIE HAMILTON * ART vs SCIENCE * BABE RAINBOW
BATTS * BEGA SOUND COLLECTIVE * BEN LEE * BEN OTTEWELL & IAN BALL (GOMEZ / UK)
C.W. STONEKING * CASH SAVAGE & THE LAST DRINKS * DICE * DJ DADBOD * DJINAMA YILAGA
EMPRESS * FLAVUH * FREYA JOSEPHINE HOLLICK * GOLDIE
HAIKU HANDS * HOLD//FIRE * JACK BIILMANN & THE BLACK TIDE * JACOTÉNE
KIM CHURCHILL * LISA MITCHELL * LITTLE QUIRKS * MELBOURNE SKA ORCHESTRA
MONTAIGNE * MOURNING (A) BLKSTAR (USA) * NORTHEAST PARTY HOUSE
* PRODIKAL-1 * ROBYN MARTIN * RUM JUNGLE * STEPH STRINGS
STONEWAVE TAIKO * TEEN JESUS & THE JEAN TEASERS * THE BIG LOST BAND
THE THIN WHITE UKES * THIS WAY NORTH * TIJUANA CARTEL
URTHBOY * WHISKEY DRAM* WILSN
ARTS
FLYING FRUIT FLY CIRCUS * ADAM PAGE * THE SUPER AMAZING DOLPHIN SHOW
WELCOME TO COUNTRY * BRONWYN KUSS * CLAIRE HOOPER * DUURUNU MIRU DANCERS
FEETBUS * FLING PHYSICAL THEATRE * FRANKENTOYS * GULAGA DANCERS
I WEAR WANDERER WORKSHOP * LA PETITE GRANDE * LIAM POWER * POLITE MAMMALS
RIVERBEND CHOIR * TOM BALLARD * THE BIG LOST BAND
THE BIOLUMINESCENCE PROJECT * WE SHAPED UP LIKE THIS
HERE'S EVERYTHING YOU NEED TO KNOW ABOUT WANDERER FESTIVAL 2023
Where and when will Wanderer Festival 2023 take place?
Wanderer Festival will take place between Fri 29 Sep - Sun 1 Oct 2023 at Pambula Beach, NSW.
When do tickets go on sale?
Tickets are on sale now!
FOR MORE BREAKING NEWS CLICK HERE