Wanderer Festival Returns To Pambula Beach For 2023 With A Stellar Lineup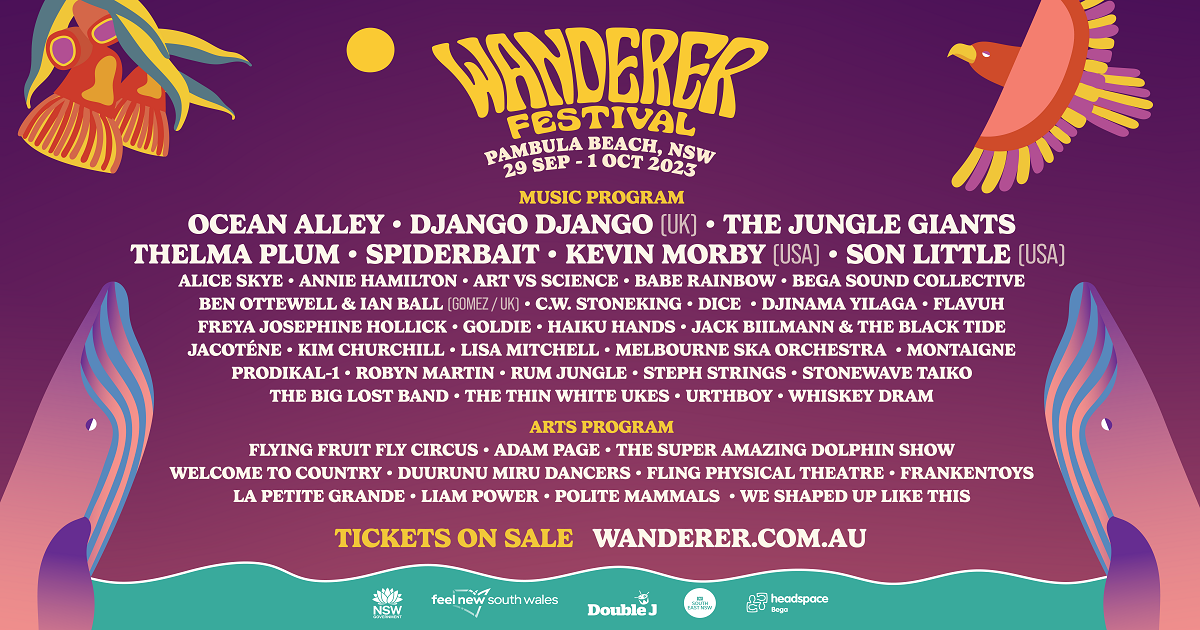 New South Wales welcomes the return of Wanderer Festival 2023 at the pristine location of Pambula Beach!
A truly multi-generational experience, Wanderer welcomes traditional festival goers as well as families to the bucolic wonderland of southern New South Wales. The hot-off-the-press lineup is set to feature the unstoppable Ocean Alley and their infectious blend of psychedelic-surf-rock, UK garage rock and electronica act Django Django (UK), storyteller and creator, Gamilaraay woman Thelma Plum, as well as Son Little (USA), Ben Ottewell & Ian Ball (Gomez, UK), Flying Fruit Fly Circus and multi-instrumentalist Adam Page.
The announcement includes over 40 artists, who now join The Jungle Giants, Spiderbait, Kevin Morby (USA), Lisa Mitchell and more previously announced talent for what is shaping up to be another epic Wanderer Festival in Pambula Beach this September. See below for a list of all artists announced so far!
More artists will be announced in coming months with the full lineup featuring over 70 artists and encompassing a world-class program of music, art, comedy, theatre, circus and artisan workshops over three unforgettable days and nights. The unique and creative spirit of the Sapphire Coast region is integral and will be featured throughout the music and arts program, epicurean feasts and craft offerings.
Tickets to Wanderer Festival 2023 are on sale now! Check out the details and score your tickets below.
Wanderer Festival 2023
Fri 29 Sep - Sun 1 Oct 2023
Pambula Beach, NSW
MUSIC
OCEAN ALLEY * DJANGO DJANGO (UK) * THE JUNGLE GIANTS * THELMA PLUM
SPIDERBAIT * KEVIN MORBY (USA) * SON LITTLE (USA)
ALICE SKYE * ANNIE HAMILTON * ART vs SCIENCE * BABE RAINBOW
BEGA SOUND COLLECTIVE *BEN OTTEWELL & IAN BALL (GOMEZ / UK)
C.W. STONEKING * DICE * DJINAMA YILAGA * FLAVUH
FREYA JOSEPHINE HOLLICK * GOLDIE * HAIKU HANDS
JACK BIILMANN & THE BLACK TIDE * JACOT NE * KIM CHURCHILL
LISA MITCHELL * MELBOURNE SKA ORCHESTRA * MONTAIGNE
* PRODIKAL-1 * ROBYN MARTIN * RUM JUNGLE * STEPH STRINGS
STONEWAVE TAIKO * THE BIG LOST BAND * THE THIN WHITE UKES
URTHBOY * WHISKEY DRAM & more to come
ARTS
FLYING FRUIT FLY CIRCUS * ADAM PAGE * THE SUPER AMAZING DOLPHIN SHOW
WELCOME TO COUNTRY * DUURUNU MIRU DANCERS * FLING PHYSICAL THEATRE
FRANKENTOYS * LA PETITE GRANDE * LIAM POWER * POLITE MAMMALS
WE SHAPED UP LIKE THIS & more to come
HERE'S EVERYTHING YOU NEED TO KNOW ABOUT WANDERER FESTIVAL 2023
Where and when will Wanderer Festival 2023 take place?
Wanderer Festival will take place between Fri 29 Sep - Sun 1 Oct 2023 at Pambula Beach, NSW.
When do tickets go on sale?
Tickets are on sale now!
FOR MORE BREAKING NEWS CLICK HERE