Bluesfest Drops Third Artist Announcement For 2024 With More To Come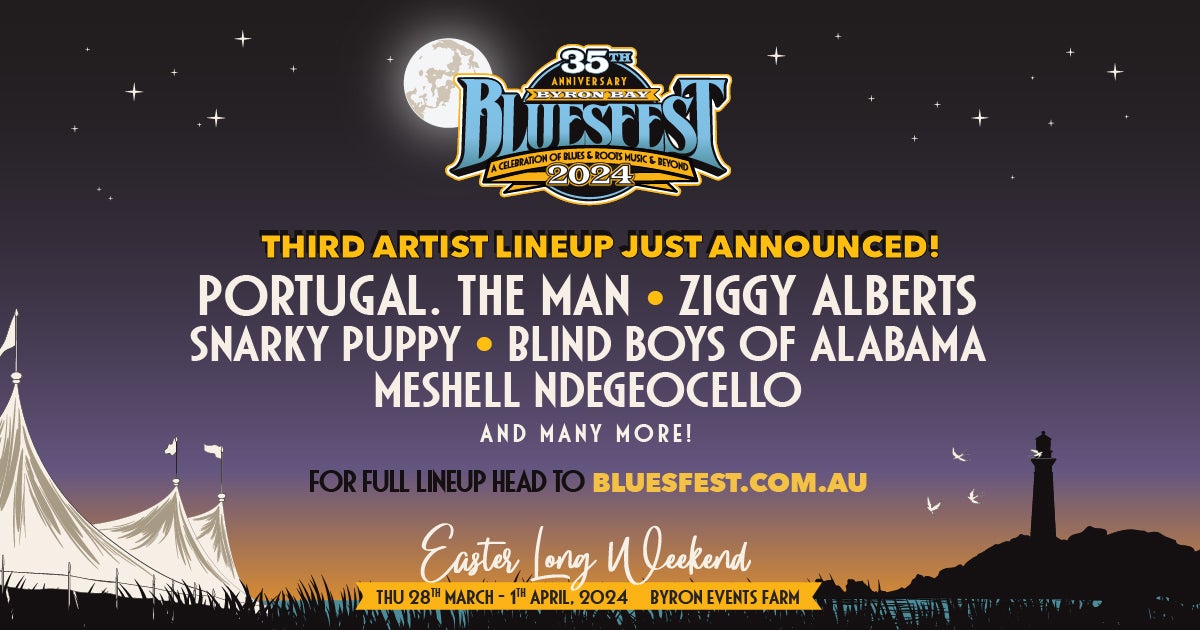 As Australia's iconic festival Bluesfest gears up for its milestone 35th anniversary, so comes its third artist announcement. Having already named headliners for Friday, Saturday and Sunday, this artist announcement focuses on Thursday, the festival's opening night!
Known for curating an exceptional roster of talent, Bluesfest is thrilled to reveal the latest wave of artists joining the celebration: Portugal. The Man, Ziggy Alberts, Snarky Puppy, Blind Boys of Alabama, Meshell Ndegeocello, Fiona Boyes & The Fortune Tellers, The Turner Brown Band and more.
Bluesfest's announcement follows the previously announced 38 artists on the lineup so far, featuring Grammy Award-winning 12-piece powerhouse Tedeschi Trucks Band, The Cruel Sea with original band members Dan Rumour, Jim Elliott and Ken Gormly, towering musical figure Taj Mahal (exclusive), songwriter Tim Finn, The Whitlams Black Stump Band, Dan Sultan, Rickie Lee Jones, WILSN, Coterie and more.
Headliner Jack Johnson (Exclusive) will perform his only Australian show for 2024. Legendary Welsh crooner and recording artist Tom Jones will also bring his worldwide hits to the stage, such as Not Unusual, Sex Bomb and Delilah.
The Teskey Brothers also join the stellar 2024 lineup. Australian singer-songwriter Matt Corby takes the stage, alongside a long list of incredible acts including L.A.B, Elvis Costello & The Imposters, Peter Garrett & The Alter Egos, Tommy Emmanuel (Exclusive), The Dead South, The Paper Kites, Drive-by Truckers and more.
Bluesfest will take place over 5 days across the Easter Long Weekend from Thursday 28 March - Monday 1 April 2024 at the Byron Events Farm, Tyagarah, NSW.
All 5-Day Season tickets and 3-Day tickets, including festival entry, camping & add-ons, parking and VIP are on sale now!
Byron Bay Bluesfest 2024
Thu 28 Mar - Mon 1 Apr 2024
Byron Events Farm Tyagarah, NSW
Lineup
Third Lineup Announcement
Portugal. The Man
Ziggy Alberts
Snarky Puppy
Blind Boys of Alabama
Meshell Ndegeocello
Fiona Boyes & The Fortune Tellers
The Turner Brown Band
Pierce Brothers | Velvet Trip
ROSHANI | Sweet Talk
Second Artist Announcement
Tedeschi Trucks Band
The Cruel Sea | Taj Mahal Exclusive | Tim Finn
Ian Moss I Rickie Lee Jones | Dan Sultan
The Whitlams Black Stump Band I Coterie
Playing For Change Band | Lisa Hunt's Forever Soul
Jackie Venson Exclusive | WILSN | Caravana Sun
Women of Soul Collective
Artists Already Announced for Bluesfest 2024
Jack Johnson | Tom Jones
The Teskey Brothers | Matt Corby I L.A.B
Elvis Costello & The Imposters
Peter Garrett & The Alter Egos
Tommy Emmanuel
The Dead South | The Paper Kites
Drive-by Truckers I Newton Faulkner I Steve Poltz
19-Twenty | Taj Farrant | Erja Lyytinen | Harry Manx
Here Come The Mummies
Clayton Doley's Bayou Billabong
Little Quirks | Hussy Hicks | Blues Arcadia
RocKwiz Live
FOR MORE BREAKING NEWS CLICK HERE