Sydney Gay And Lesbian Mardi Gras Reveals Dazzling Program For 2024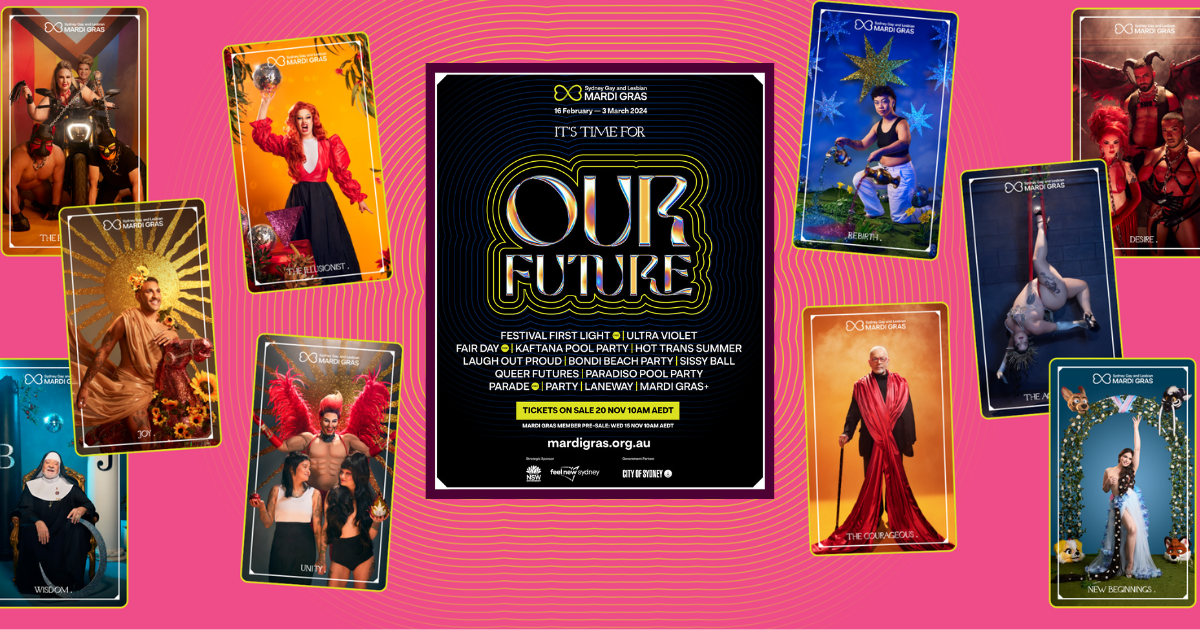 The iconic Sydney Gay and Lesbian Mardi Gras Festival returns from Friday 16 February to Sunday 3 March 2024, charging into our future with its biggest and boldest program in years.
Bursting at the sequined seams, the expansive Festival program celebrates the entire LGBTQIA+ community, boasting over 100 electrifying community events, dance parties, theatre and music, culminating with the globally renowned Sydney Gay and Lesbian Mardi Gras Parade on Saturday 2 March 2024.
Fresh off the heels of its 45th anniversary in 2023, this year's Sydney Mardi Gras shines even brighter with a forward-focused theme: Our Future. The theme embodies a commitment to inclusivity, acceptance and optimism, celebrating past achievements while illuminating the path to a dazzling future.
Tickets to Sydney Gay and Lesbian Mardi Gras go on sale to the general public at 10am AEDT Monday 20 November.
Mardi Gras Members will get early access to tickets from 10am Wednesday 15 November.
Sydney Gay And Lesbian Mardi Gras Festival 2024
Fri 16 Feb - Sun 3 Mar 2024
Sydney, NSW
This year's program features a range of new and major events:
Bondi Beach Party
, a grand beachside celebration that captured hearts at Sydney WorldPride returns. Bringing together 15,000 revellers as the iconic Bondi Beach is the backdrop to international DJs and performances for that distinct Sydney Mardi Gras flair.
Ultra Violet
,
another WorldPride favourite, this invigorating day-to-night party is tailored for LGBTQIA+ women, set within the artistic walls of the National Art School, and curated by luminaries
Sveta Gilerman
and
Jess Hill;
Festival First Light
, a city-wide Welcome to Country ceremony led by Elders from across the Sydney Basin;
Hot Trans Summer
, a total trans and gender-diverse takeover of floating luxury venue Glass Island. It is set to be a celebration dedicated to the trans and gender diverse communities, boasting an all-trans lineup.
Queer Futures
, a series of talks and ideas, with conversations ranging from sport to the arts, politics and education.
Diamond Dance
, presented by
Sydney Gay and Lesbian Mardi Gras, Pollys Club,
and
Dykes on Bikes
, is a party celebrating
Pollys Club's
60th year through nostalgic rhythms and standout acts.
Oxtravaganza and Darlo Big Drag Brunch
, presented by the
Darlinghurst Business Partnership
, is an eclectic two-week fringe festival pulsating with nightly performances, art showcases, a dedicated family zone and more. Also returning from 2023 is
Darlo Big Drag Brunch
, where the glittering Oxford Street and surrounds will be taken over by simultaneous Drag Brunches to kick off the
Bondi Beach Party
day.
Marks Park Dawn Sunrise Service of Reflection
, in collaboration with the
Bronte Surf Club, ACON
and
Waverley Council
is a poignant dawn service to remember and honour victims of homophobic and transphobic violence in the 1970's and 1990's.
& JULIET
, presented by
Michael Cassel Group
in association with
MTM/LeyLine
, a one-night-only Mardi Gras special performance of the smash hit musical starring
Lorinda May Merrypor, Rob Mills, Casey Donovan
and
Amy Lehpamer.
Longstanding events beloved by the community also make a return in 2024 including,
Progress Pride Flag Raising
,
Fair Day
,
Paradiso Pool Party
,
Kaftana Pool Party
,
Laugh Out Proud
,
Sissy Ball
,
Queer Art After Hours
,
Mardi Gras Party
,
Laneway
, and the jewel in the Mardi Gras crown,
the Sydney Gay and Lesbian Mardi Gras Parade
and its posse of four premium
Parade Viewing Areas
.
COLLECTOR TICKETS
Elevate your experience with a limited edition Collector Ticket, available to purchase via the event page for select events.
A Collector ticket is a special type of ticket that admits the holder to the event and is designed to be kept as a memento or souvenir of a particular event. Featuring event specific, unique artwork or designs to make an attractive, collectable souvenir!
Collector tickets are a fun and treasured keepsake serving as a lasting reminder of the event for years to come.
Collector tickets can only be delivered via post and you will also receive a digital ticket shortly after purchase. This will be attached as a PDF to your booking confirmation. Find out more info here.
FOR MORE BREAKING NEWS CLICK HERE