Secret's Out! Flight Facilities and Pendulum Join Yours & Owls Festival 2023 Lineup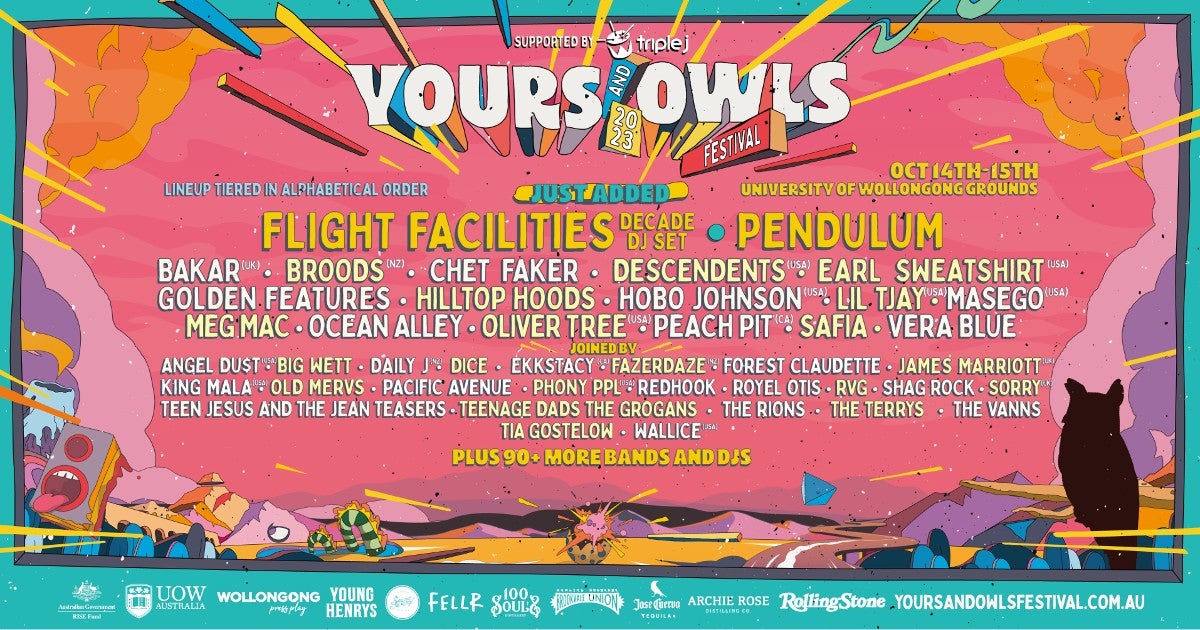 Yours and Owls Festival 2023 is the gift that keeps on giving! Not one, but TWO surprise acts are landing, to expand your weekend musical immersion.
Open your arms and welcome ARIA and AIR Award-winning electronic duo Flight Facilities, and three-time platinum-selling electronic rock band Pendulum to the 2023 lineup, both playing Sunday!
Over the years, Flight Facilities have continued to deliver their fans new live show formats and music experiences. From the studio to the DJ booth, to the biggest live stages, be it Ibiza all-night long DJ Sets to performing live with world-renowned orchestras; they continue to reimagine how they connect with people.
Pendulum are undoubtedly one of the biggest electronic bands of all time. They returned in 2021 from a hiatus to release their EP 'Elemental' and storm into 2023 with new single 'Halo' featuring Bullet For My Valentine front man Matt Tuck.
Tickets to Yours & Owls Festival 2023 are on sale now! Check out the full lineup below to see who will join Flight Facilities and Pendulum on this year's lineup and get your tickets locked in.
Yours & Owls Festival 2023
Sat 14 Oct - Sun 15 Oct 2023
University of Wollongong, NSW
LINEUP
Flight Facilities | Pendulum (Live)
In alphabetical order...
Bakar' Broods | Chet Faker
Descendents | Earl Sweatshirt
Golden Features | Hilltop Hoods
Hobo Johnson | Lil Tjay | Masego
Meg Mac | Ocean Alley | Oliver Tree | Peach Pit
Safia | Vera Blue
Angel Du$t | Big Wett | Daily J | Dice | Ekkstacy | Fazerdaze
Forest Claudette | James Marriott | King Mala | Old Mervs
Pacific Avenue | Phony Ppl | Redhook | Royel Otis
RVG ' Shag Rock | Sorry | Teen Jesus And The Jean Teasers
Teenage Dads | The Grogans | The Rions | The Terrys
The Vanns | Tia Gostelow | Wallice
Babyface Mal | Billy Otto | Full Flower Moon Band
Girl And Girl | Go-Jo | Lazywax | Phoebe Go | Possehot
Rum Jungle | Stevan | Stumps | These New South Whales | Towns | YB | Wiigz
Plus More!!
Das Shmelthaus Lineup
Object Blue B2B, TSVI, Cleo, Club Angel, DJ PGZ, Korn l Kov cs, Lauren Hansom B2B Mike Who,
Luca Lozano, Sam Alfred, Seb Wildblood, Skatebard, Tangela.
HERE'S EVERYTHING YOU NEED TO KNOW ABOUT YOURS & OWLS FESTIVAL 2023
When do tickets go on sale?
Tickets are on sale now!
Will VIP tickets be available?
Yes! Purchase or upgrade to a VIP package for a truly unforgettable, luxurious and extremely comfortable festival experience!
As a VIP guest at Yours & Owls 2023, you'll enjoy a range of exclusive perks and benefits, including:
- Priority entry via the VIP-only entrance lane into the festival
- Exclusive premium food and beverage offerings
- VIP concierge service to help out with any and all festival needs
- An exclusive VIP bar with hang-out space located in view of the Main Stage
- Access to our VIP lounge space at the Young Henry's Pub, where you can relax in style, comfort, and air-conditioning! (Limited capacity)
- Complimentary snacks
- Private restrooms
- Complimentary lockers and cloak service at the VIP hub (Limited availability)
- Complimentary phone charging service
- Complimentary Wi-Fi
- Glam bar for make-up touch-ups, glitz and sparkles
- Surprise experiences - take a chance and let us treat you!
Ticket Note:
Moshtix is the only authorised ticket seller for Yours & Owls and all tickets must be purchased through Moshtix to be valid at the gate.
FOR MORE BREAKING NEWS CLICK HERE