SA Music Awards 2023: The Big Winners And Ones To Watch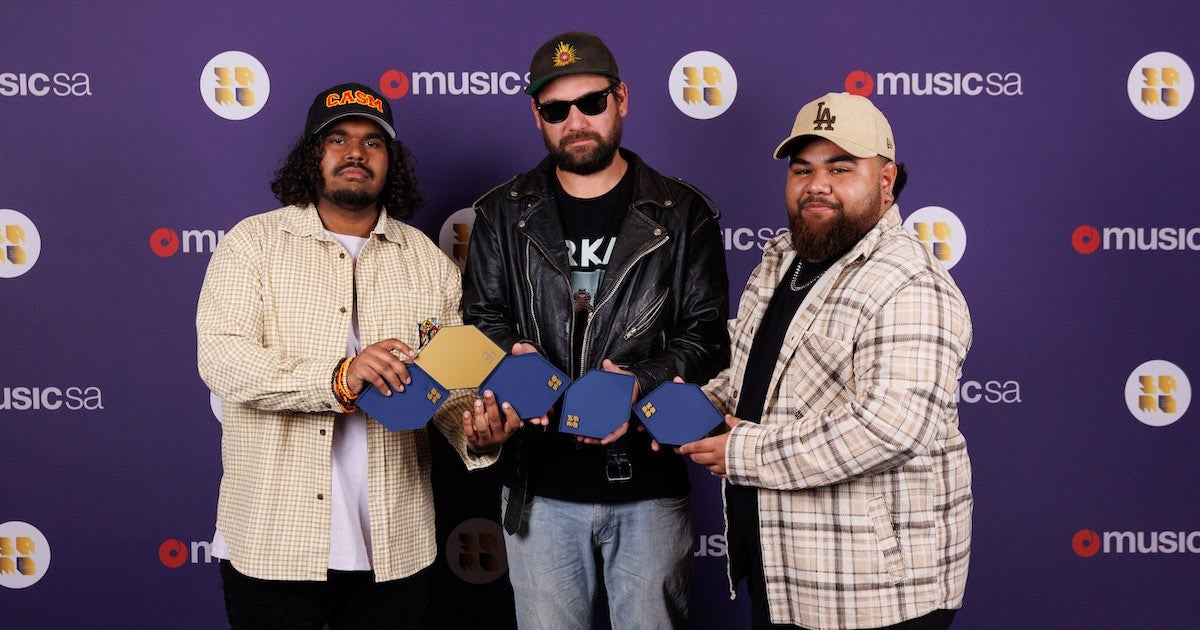 Strap in, Moshies! Ausmusic Month is in full swing, and guess who's stealing the spotlight? None other than the musical maestros from South Australia! Our backstage pass to the state's sonic extravaganza just went down, and oh boy, did it dish out some serious musical magic.
Join us as we recap last week's South Australian Music Award winners and celebrate the diverse talent the state has to offer.
DEM MOB
Best Aboriginal or Torres Strait Islander Artist, Best Regional Artist, Best Music Educator, People's Choice - Hip Hop Award, Emily Burrows Award
Hailing from the APY Lands, hip-hop group DEM MOB emerged as one of the night's big winners, clinching the prestigious Emily Burrows Award along with a $5,000 grant for professional development. The group's unique blend of cultural influences and rhythmic prowess also secured victories in the categories of Best Regional Artist, Best Aboriginal or Torres Strait Islander Artist, and the Best Hip Hop Award, further solidifying their status as trailblazers in the Australian hip-hop scene.
Bad//Dreems
Best Group Presented By Moshtix
Alternative garage rockers Bad//Dreems solidified their stellar year by winning Best Group presented by Moshtix. The award comes as they ride the wave of success from their fourth studio album, Hoo Ha, nominated for Best Rock Album at the upcoming ARIA Awards. The band's gritty sound and undeniable energy continue to resonate, making them a force to be reckoned with in the Australian rock scene.
You can catch Bad//Dreems performing live at Wollongong's La La La's on Sat 25 Nov!
The Empty Threats
Best New Artist, Best Song
The Empty Threats, a post-punk and noise-rock ensemble, asserted their position as a rising force in the local music scene. The band scooped up awards for Best New Artist and Best Song for their hauntingly beautiful track, Evil Eye. Their ability to weave atmospheric soundscapes and deliver powerful performances has marked them as a group to watch in South Australia's ever-evolving musical landscape.
The Tullamarines
2023 People's Choice - Pop Award
The Tullamarines clinched the People's Choice Pop Award, solidifying their status as the go-to sound for music lovers. Their catchy tunes and infectious beats have struck a chord with fans, making The Tullamarines the pop powerhouse of the moment. With this accolade in hand, expect their euphoric melodies to keep the pop party going strong into 2024!
Don't miss their upcoming performance at Adelaide's Lion Arts Factory this Friday!
Slowmango
Best Release, Best Cover Art
Funk-jazz-progressive band Slowmango took home not one but two awards, showcasing their prowess in creating raw, genre-exploring grooves. The six-piece collective secured the Best Release award for Hypercolour Miscellaneous and Best Cover Art, a visual masterpiece crafted by Kaspar Schmidt Mumm & The Bait Fridge. Slowmango's ability to push musical boundaries and deliver an immersive experience resonated with both the audience and the judges.
Alana Jagt
Best Solo Artist
Indie folk-rock singer-songwriter Alana Jagt claimed the title of Best Solo Artist, a category presented by scenestr. This recognition comes on the heels of her debut album, Goodbye Grote Bollen, released late last year. Alana's emotive vocals and poignant songwriting have captivated audiences, establishing her as a standout solo artist in the South Australian music scene.
For more Ausmusic Month content, be sure to check out our top event picks HERE!
FOR MORE BREAKING NEWS CLICK HERE