Port Fairy Folk Festival Announces Even More Artists For Its 2024 Lineup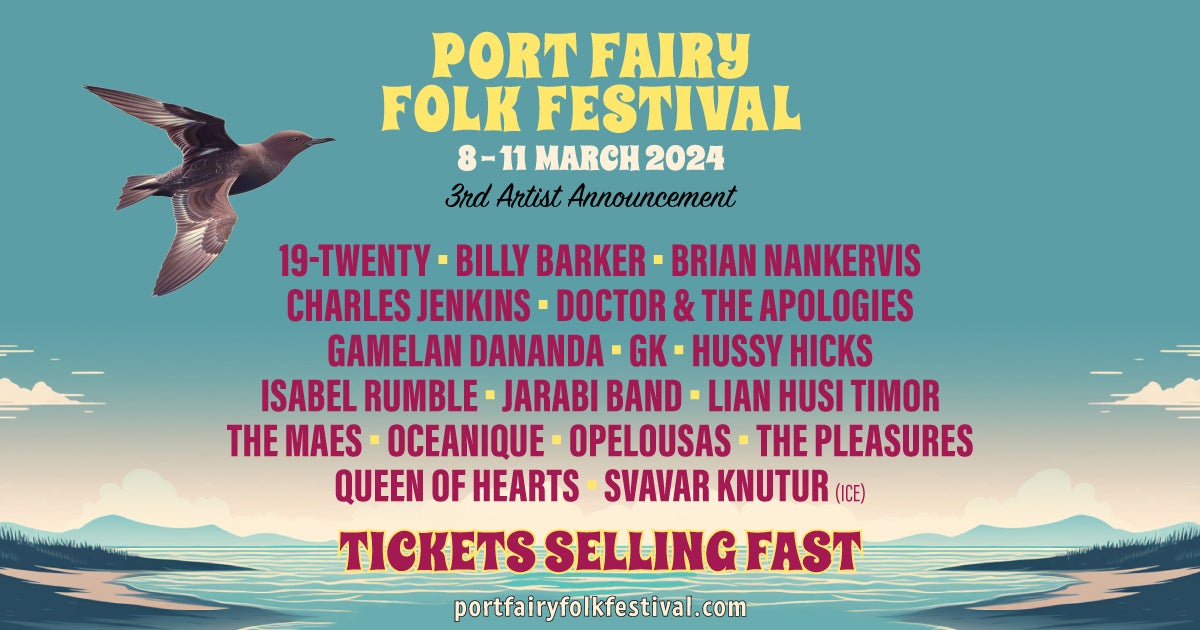 Port Fairy Folk Festival has announced even more artists for its March long weekend event, which will see tens of thousands of music lovers descend upon the stunning coastal village of Port Fairy in South-West Victoria.
Joining the vibrant lineup is Icelandic singer songwriter Svavar Knútur, who will share traditional and contemporary folk songs as part of the Small Halls tour presented by Woodford Folk Festival, hitting the road with local folk group The Maes.
Continuing its tradition of supporting Australian artists, Port Fairy Folk Festival will celebrate the songs and stories of Isabel Rumble, Oceanique, Opelousas, The Pleasures, Queen of Hearts mariachi band along with local South-West Victorian stars Billy Barker, GK of Find Your Voice Choir and Doctor & The Apologies.
Following on from winning Music Victoria's Best Regional Festival Award for the second year running, the Festival is honoured to welcome back festival favourites 19-Twenty, Brian Nankervis, Charles Jenkins and Hussy Hicks, plus a variety of roving entertainment and activities for music lovers of all ages.
Adding a taste of the world, local artists Gamelan DanAnda, Jarabi Band, and Lian Husi Timor will take to the Port Fairy stages in an enriching program of elevating songs, rhythms and culture.
The newly added artists join previously announced acts by the likes of Graham Nash, Cam Cole and The SongBirds featuring Dannielle De Andrea, Erica Canales, Gaby Moreno, Kate Miller-Heidke, Fanny Lumsden, John Craigie, Ondara and many more.
Each year the Port Fairy Folk Festival brings thousands of music lovers to its seaside destination of Port Fairy over the March long weekend. Check out the full lineup and grab your tickets below!
Port Fairy Folk Festival 2024
Fri 8 Mar - Mon 11 Mar 2024
Southcombe Park, VIC
Lineup
19-Twenty, Alice Skye, Billy Barker, Brian Nankervis, Cam Cole (ENG), Cat Clyde (CAN), Charles Jenkins, Cool Out Sun
Damon Smith, Daoiri Farrell (IRE), Doctor & The Apologies, Fanny Lumsden, Gaby Moreno (GTM), Gamelan DanAnda
Gangar (NOR), GK, Gnoss (SCO), Good Habits (ENG), Graham Nash (USA), Hussy Hicks, Isabel Rumble, Jarabi Band
John Craigie (USA), Judy Collins (USA), Kate Miller-Heidke, Lian Husi Timor, The Little Stevies, Lorraine Nash (IRE)
Luka Bloom (IRE), The Maes, The Merindas, Nigel Wearne, Oceanique, Ondara (USA), Opelousas, The Pleasures
Queen of Hearts, Queenie, Quote The Raven (CAN), Ralph McTell (ENG), Sarah Blasko, Sharon Shannon Big Band (IRE)
The SongBirds (INT), Sons of the East, Svavar Knútur (ICE), Teeny Tiny Stevies, Teho (FIN)
FOR MORE BREAKING NEWS CLICK HERE