Surprise! Becky Hills Joins Peggy Gou, Foals, Sub Focus, Wilkinson & More At Golden Lights 2024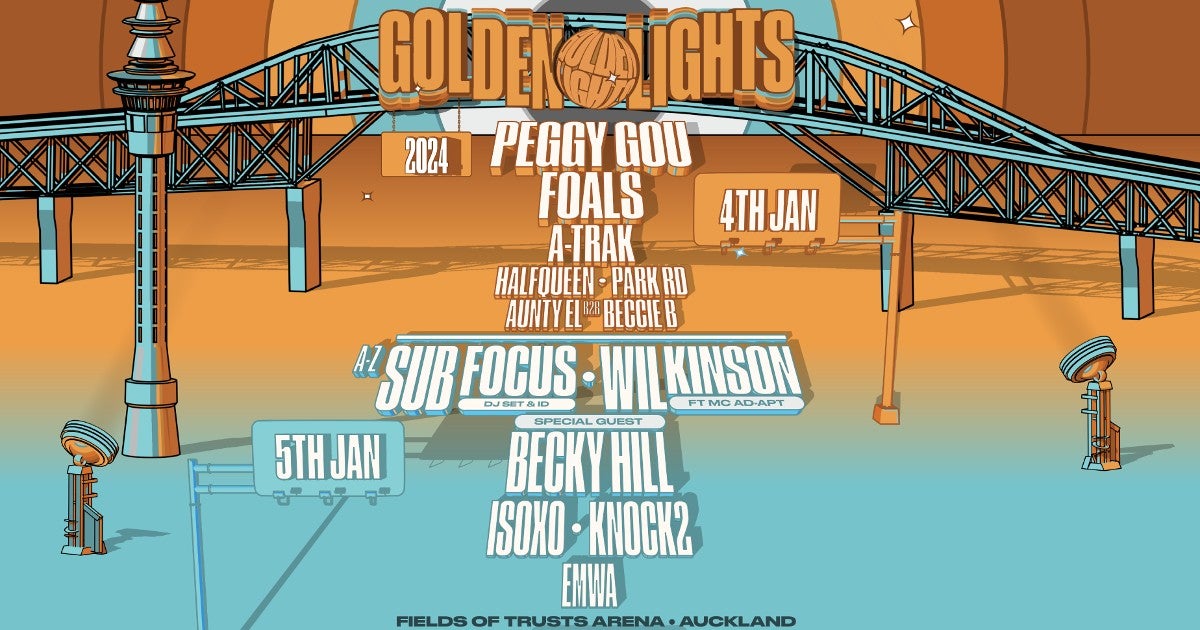 The big dance in the bright lights of Auckland just got brighter, with the team behind Golden Lights Music Festival 2024 announcing that Becky Hill has joined the already epic lineup, now taking place across a massive 2 days on Thursday 4 January and Friday 5 January 2024.
Day One - Thu 4 Jan 2024
PEGGY GOU, FOALS, A-TRAK, HALF QUEEN, AUNTY EL b2b BECCIE B, PARK RD
Day One features a headline NZ debut performance from global superstar, Berlin based, Korean born fashion icon and producer Peggy Gou. UK indie rock heroes Foals make their triumphant return after their recent sold out Town Hall appearance, bringing their stable (sorry) of hits including "Your Number", "2am" and "Mountain at My Gates." A-Trak will have the Golden Lights dance floor bouncing from the outset. One half of Duck Sauce, world champion turntablist and responsible for some of the dance floors most iconic club remixes (Yeah Yeah Yeah's "Off With Your Heads" I mean COME ON!), his return to New Zealand has been a long time coming. Day one also features local performances to get the day pumping from genre bending Half Queen and a very special set of sets from AUNTY EL b2b BECCIE B. Finally, Auckland rock collective PARK RD provide further good news for lovers of live bands.

Day Two - Fri 5 Jan 2024
SUB FOCUS DJ SET & ID, WILKINSON FT MC AD-APT, BECKY HILL, ISOXO, KNOCK2, EMWA
Brace yourself for Day Two of Golden Lights with two of the biggest names in Drum and Bass tipped to close out the festival. Wilkinson has cemented himself as one of the most successful stars in global dance music, and certainly continues to be a Kiwi favourite with hits such as "Afterglow" "Used to This" and his latest anthem "Here for You." Sub Focus has been flying the D&B flag for over a decade, smashing out arena tours and main stage festival sets across the globe. One of Britain's most in-demand music artists, Becky Hill, will be adding more firepower to the Drum and Bass triple billing on Friday. Big bass and trap breakouts ISOxo and Knock2 are also confirmed for their New Zealand debut performances, as well as local leading bass producer Emwa performing on the main stage at Golden Lights to round off the massive Golden Lights lineup.
Tickets to Golden Lights Music Festival 2024 are on sale now!
Golden Lights Music Festival 2024
Thu 4 Jan - Fri 5 Jan 2024
Fields Outside Waitakere Trusts Arena, Auckland
HERE'S EVERYTHING YOU NEED TO KNOW ABOUT GOLDEN LIGHTS MUSIC FESTIVAL 2024
When and where is the festival?
Golden Lights 2024 will take place between Thu 4 Jan - Fri 5 Jan 2024 at the Fields Outside Waitakere Trusts Arena, Auckland.
When do tickets go on sale?
Tickets are on sale now!
FOR MORE BREAKING NEWS CLICK HERE