Calling All Cuties! The Full Summer Camp 2023 Lineup Has Landed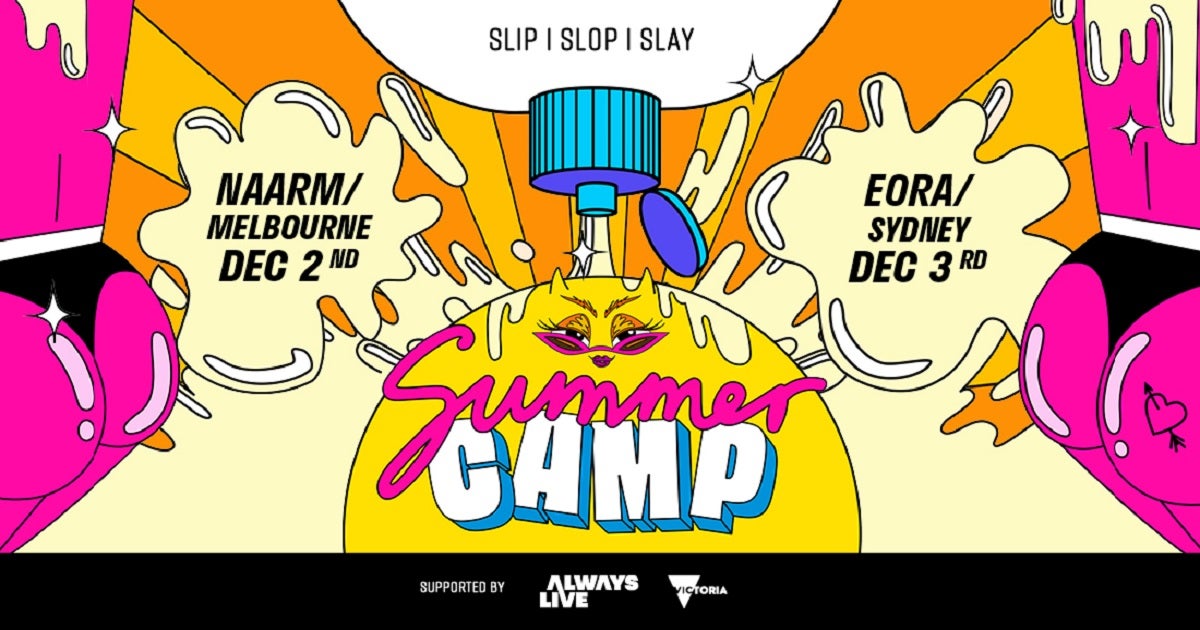 Slip Slop Slayyyyy, your favourite camp for the queers, curious & cuties is back!
The team at Summer Camp have finally revealed the festival locations AND stacked 2023 lineup, featuring 100+ artists, DJs and performers across the Summer Camp weekend with three stages in each city!
Oh buoy... Melbourne we'll see you at St Kilda Marina for Summer Camp By The Sea! In Sydney, Summer Camp takes over Wentworth Park Sports Centre in Ultimo. The lineup is playful and fun in true Summer Camp style - from nostalgic throwbacks, international pop stars, DJing drag queens & techno rave caves - bringing everyone together to dance no matter your age, gender, or star sign.
Joining previously announced UK disco queen Jessie Ware and drag superstar DJ Trixie Mattel are underground American rapper and songwriter Brooke Candy, producer and DJ Kito, viral pop sensation Rebecca Black, Berlin club DJ Meg10, Afrofuturistic NYC DJ duo The Illustrious Blacks, British singer-songwriter Tom Aspaul, Go-Go's icon Belinda Carlisle (Sydney only), '90s dance diva Ultra Nate (Melbourne only) + heaps of locals.
Tickets to Summer Camp 2023 are on sale now!
Summer Camp Festival 2023
Sat 2 Dec - Sun 3 Dec 2023
Melbourne & Sydney, AU
Sat 2 Dec 2023 | St Kilda Marina, VIC
Sun 3 Dec 2023 | Wentworth Park Sports Complex, Ultimo, NSW
MELBOURNE LOCALS (A-Z):
ALEX MORRIS - BALLROOM AUSTRALIA - BATHESBA - CRESCENDOLL - DAWS - DILONCE' - DISCO DADDIES - DJ GAY DAD
ECTERERA ETCETERA X ART SIMONE - FRAGILE FUTURE - HOUSE OF BUFFET - JESSE BOYD - KAT ZOWTHABAG - KWEEN KONG
NICK SPURWAY - SAINT EVE - SAL - SIMPLE - SOVBLKPSSY - STONE MOTHERLESS COLD - SULLIVAN - THE HUXLEYS
TILLY CAPULET - TYOOW - VB - UNICORNS - YO! MAFIA
SYDNEY LOCALS (A-Z):
ABBY & TYRONE - AKALA NEWMAN - ATOMIC BLOND & DUTCH KISS - BALLROOM AUSTRALIA - BASCHOE - CHARLIE VILLAS
CHIC COACH - CLEO RAPTURE - CLUB CHROME - DADS MAYO - DAN AZZO - DIVA CUPS - DYAN TAI - FETA JAMES - FRIED PORK CHOP
JACKIE DANIELS - JANE - JASON DE COX - JIMI THE KWEEN - KARLEE MISI - KING C*NTESSA - LADY FUR - MATT VAUGHAN
NEVER ENOUGH DJS (DUNNY MINOGUE X ESTÈE LOUDER) - ROSIE RIVETTE - SAINT EVE - SEXY GALEXY - SOUR - SOVBLKPSSY
STELLY G - STEREOGAMOUS - TEXAS GOLD - THE SLOPPY SHEILAS FROM DOWN UNDER - TYOOW - UNICORNS - YO! MAFIA
FOR MORE BREAKING NEWS CLICK HERE